Pokemon Pan
(ポケモンパン,
lit. Pokemon Bread
),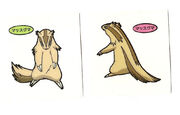 is a snack found in 7-11 stores around Japan and is made by Daiichi Pan (第一パン). Produced in varying flavors including melon and cream filled, these single pack breads also come with foil wrapped stickers, known as "pan stickers" by English speaking collectors. These stickers are random and most (possibly all) Pokemon have been represented in pan sticker form. There are hundreds of different pan stickers, many which have Pokemon in rare or never-before-seen poses. While Japanese collectors prize pan stickers (known as Deco-Chara Seals [デコキャラシール] in Japan), they are not popular among the English speaking community and usually sell for between $1 and $5, depending on rarity and popularity of the Pokemon on the sticker.
External Links
Edit
Ad blocker interference detected!
Wikia is a free-to-use site that makes money from advertising. We have a modified experience for viewers using ad blockers

Wikia is not accessible if you've made further modifications. Remove the custom ad blocker rule(s) and the page will load as expected.